Winter has arrived so it's time to look back at the trackday season

I've been using HLT on several occasions, in conjunction with a GoPro Hero 7 BE as the only camera and a BT OBD adaptor.
The camera was setup for best quality at 4K/60fps producing large HEVC encoded files in 4Gb chunks.
To assemble these chunks together, and since I've read that there were problems with overlaying the Hero 7 original videos, I've used Shotcut software on my PC to export a single h264 .mp4 file for the first track session I want to overlay, then import it onto my Samsung Galaxy S10E (Android 9) internal's memory.
Within HLT I have then relinked this file to the 7 laps of the session, which worked perfectly.
The issue I have now is that the overlay feature is inoperative, both as a real-time feature in the video play window, as well as after exporting a series of laps and thus creating an overlaid video.
I have checked that the lap data was valid as well as the vehicle properties. All overlay options were selected except référence lap. No errors showing on the overlay screen.
Here are a few screenshots to illustrate (I hope you can still figure things out despite the interface being in french)
1. Overview of the lap I want to overlay

2. Play view before creating an overlay: no real-time overlay preview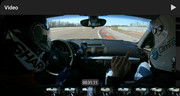 3. Overlay settings menu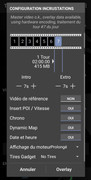 4. Lap details after overlay was successfully created

5. Play view after overlay created: still no overlay visible
6. Video details after overlay created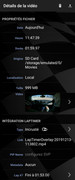 Additional information: the laps were recorded on another Android phone running 8.1. Recently switched to the Galaxy and exported/imported the database successfully it seems.
Suggestions: update the video documentation to reflect the current interfaces with high-quality screenshots. Specify any limitations pertaining to video files: size, resolution, framerate, encoding, format...