Dear friends of LapTimer,
We are in line to deliver Harry's LapTimer v18 this Friday! We never released such an amount of additional value in one day:
new iOS LapTimer v18 Editions,
new Android v18 Rookie Edition,
all new Android v18 Petrolhead Edition,
and finally an all new web browser front end to a million laps recorded with Harry's LapTimer.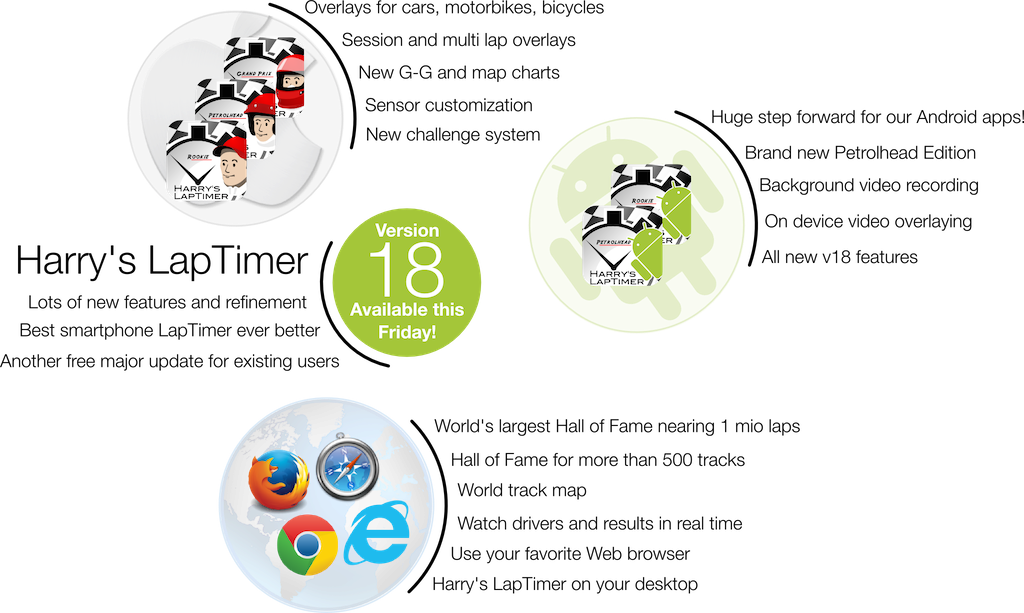 Code: Select all
Hot new feature: participate in Challenges
‣ Challenges can be submitted to the server and downloaded by other users.
‣ Drive against other's times. 
‣ More important, it is a great tool to compare your drive in details against others - e.g. your racing instructor. 
‣ Challenges can be submitted public or to listed users only.

Lots of changes to video and overlay functions [Petrolhead and GP]
‣ New, vehicle-specific gadgets! Lean angles for motor bikes, extended OBD for cars, and calories burned / height profile for bicycles
‣ Video exposure lock
‣ Multi lap overlays and video manipulation
‣ Convenient video management for full sessions

Completely reworked Online functionality [Petrolhead and GP]
‣ Browse through all tracks active world wide!
‣ It is no longer required to have a track in your database to see track shapes and active driver positions
‣ LapTimer online view available directly on our LapTimer home page (includes desktop browsers)

New analytics [Petrolhead and GP]
‣ New G-G chart for analysis of general driving maturity
‣ Reference lap comparison for Map Chart
‣ Massive performance improvements for diagrams and imports

Improved sensor support
‣ Sensor specific configurations (VBOX Sport, Dual XGPS, OBD2 4U, generic NMEA and OBD sensors)
‣ MAP calculation for OBD
‣ Much improved power / fuel consumption calculations
‣ Support for Diesel engines.

Like all our major releases, this version includes a huge set of minor improvements and bug fixes on top!
And like all LapTimer updates, it is completely free for existing users. Enjoy!
- Harry