Dear friends of LapTimer,
I'm very happy to announce our upcoming line of Harry's LapTimer version 17 apps today. In our commitment to provide you with a continuously improved and super innovative track tool, version 17 adds several landmark features again. Many of these features have not been seen before - and I'm very proud we can keep the pace and prove there is still lots of innovation potential in this exciting technology area.
A special thanks to you LapTimer users. I received hundreds of valuable improvement suggestions and lots of support from the LapTimer community. Can't tell you how important that is for a niche smartphone app like LapTimer. Thanks to you all, and keep promoting the app on track as you do today!
Besides being a major update, version 17 introduces a new line of apps replacing the existing Standard, Pro, and Trainer editions. Learn more on the features - and how your existing app is promoted to the new scheme - below.
We plan to have version 17 available on AppStore by the begin of March.
I'm currently in processes to fix the final bugs found during beta testing, and add missing localizations. The apps will be submitted to AppStore by end of February and will require some additional days for Apple to quality assure.
Here is the summary of changes...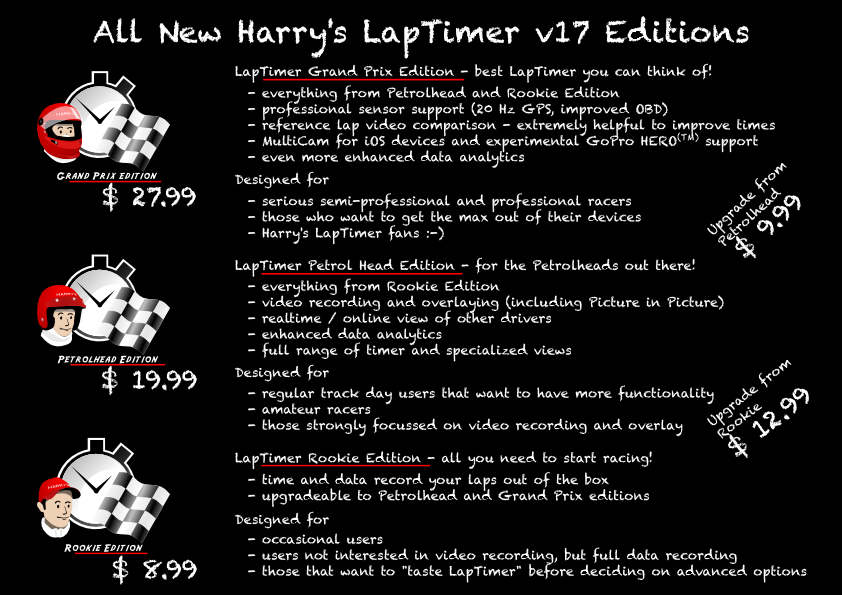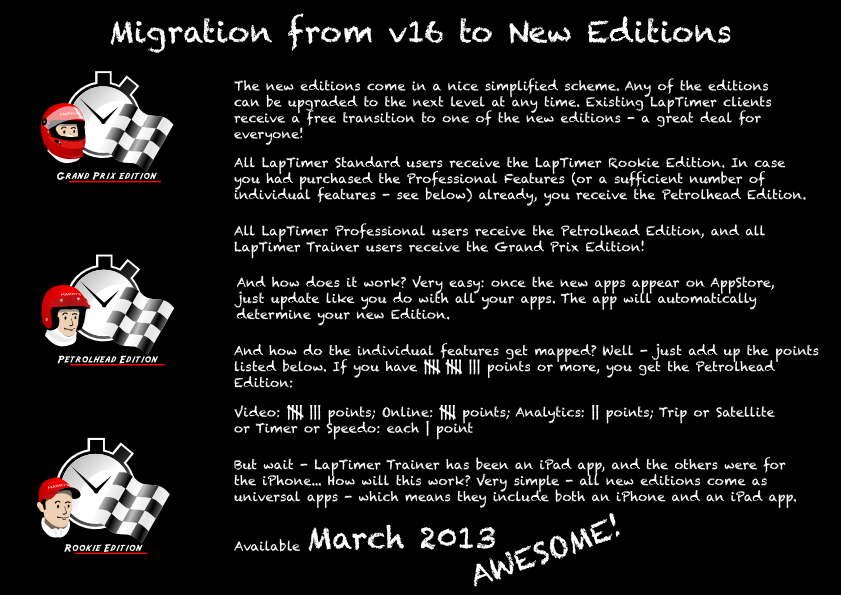 ... and here are the details:
Code: Select all
‣ New line of LapTimer Editions Available!

	LapTimer v17 comes in ROOKIE, PETROLHEAD, and GRAND PRIX edition
	★★★Major update with hundreds of improvements and additions everywhere
	★★★Standard, Pro, and Trainer versions are mapped automatically and for free
	Simplified upgrades ROOKIE ‣ PETROLHEAD ‣ GRAND PRIX available
	Improved performance for standard operations
	Raised minimal iOS requirement to iOS5.0
	★★★All LapTimer editions come as universal binaries now (native support for both iPhone and iPad)

‣ Video Recording [PETROLHEAD]

	Added new video configuration hover view including video stabilization preference
	Fully reworked video overlay routines: design is fully modular now ;-)
	Overlays show full resolution on screen now (has not been Retina so far)
	Added expert setting for 60 Hz video recording (will not work for iOS6 devices)
	Added stepper to allow easy video sync point adjustment
	Reworked large recording buttons to be less color intensive and feature a polished aluminium style
	Added new video linking allowing to rename videos without losing the link
	★★★Completely reworked the video section in lap details - add / sort / revert / remove as you like
	Added source information and individual help to video thumbnails in Lap Details
	★★★Picture in Picture support for video overlays - compose any video you like
	★★★Picture in Picture reference lap comparison by sector [GRAND PRIX]
	Recording position and time are stored in videos for easier handling
	Added lap link and metadata information to Video Detail views
	Added a turbo gauge to video overlay

‣ Support for Remote Cams (MultiCam) [GRAND PRIX]

	★★★Control video recordings for more than one device - no touch operation
	Videos recorded remotely are automatically linked and aligned to LapTimer recordings
	★★★Experimental MultiCam integration of GoPro HERO3 and HERO2+BacPac
	Preview MultiCam videos stored on other devices

‣ Video handling for iCloud added [PETROLHEAD]

	Added iCloud support to video handling, MultiCam uses this feature to transfer MultiCam videos to master
	★★★Swap in/out videos from/to local memory to iCloud (5 to 50 GB available)
	Added all kinds of move operations between the different video locations

‣ Improved Sensor support

	Calibration dialog is dismissed automatically
	Improved OBD / GPS alignment, including interpolation  
	Improved calculation for Max G gadget
	★★★Added OBD fuel level, coolant + oil temperature, and turbo boost level to recordings
	Added temperature warning colors (too low, too high) to gadgets
	Added some speed tweaks to get speeds higher than 255km/h in video overlays while OBD is connected
	Added new intake and engine type parameters to vehicle information
	Reworked OBD parser to be very versatile and feature better performance
	★★★Added parallel OBD requests for GoPoint BT1+BT1A (1 or 2 Hz improvement)
	★★★Full support and integration of Racelogic's VBOX Sport GPS featuring 20Hz(!) update rate
	Added new and much improved update rate counter, both full and tenth precision selectable

‣ User Interface improvements

	New LapTimer icon common to all LapTimer editions
	New About Screen and background artwork
	★★★Full landscape support for iPads added
	★★★Added fonts to skin - change to the type you like most
	Improved layout for Satellites and OBD gadgets
	Added optimized landscape views for Export, and wheel+polar coordinate selection 
	Reworked and simplified the Status Gadget shown in the top of timer views
	Reworked alerts to be wider in landscape view - much nicer now
	Localized polar coordinates display throughout the app
	Improved naming and display of "Add Item..." entries in all lists
	Simplified dynamic tab bar for iPhone5 in portrait (enough space available)
	★★★Added text to speech for lap times

‣ Data Analytics / Data Recordings

	Reimplemented gestures in GPS Data Recording (much better to use)
	Improved performance for complex GPS Data Recording views
	★★★Added a cursor to data recording - see details for every individual fix [GRAND PRIX]
	★★★Added video to data recording - move cursor in data and see the video frame instantly [GRAND PRIX]
	Reworked switching between charts, no more page change when zooming / dragging
	Improved legend for charts
	Diagrams allow selection of best lap for current vehicle, or any vehicle
	Added yaw rate chart to data recording charts [GRAND PRIX]
	Added temperature chart to data recording charts [GRAND PRIX]
	Added throttle chart to data recording charts

‣ Exports and File Formats 

	Added support for new Dropbox API
	Added a default of 10 satellites to VBO export (for internal GPS sensor only)
	Changed CSV export to use "/" instead of ";"
	Fixed issues opening LapTimer attachments from Mail

- Harry