Dear friends of LapTimer,
Today, we proudly announce our professional LapTimer solution jointly with Racelogic. The upcoming VBOX Sport features 20 Hz GPS update rates when used with Harry's LapTimer. Utilizing this great GPS mouse, you get 1st class GPS sensor quality, and 1st class data recording and analysis functionality from the world's most feature rich LapTimer. VBOX Sport support will start with version 16.8. - available soon.
The VBOX Sport is fully integrated with LapTimer. Only this direct integration allows an update rate of 20 Hz through Bluetooth, a quantum leap compared to what is currently available on any smartphone.
Although we add VBOX Sport support to both LapTimer Standard and Professional in version 16.8, this support will be removed for this apps in version 17 again. Instead, VBOX Sport will be a premium feature exclusive to the new
Harry's LapTimer Grand Prix Edition
. LapTimer Grand Prix will add several exciting features besides VBOX Sport support.
I will grant a free upgrade from LapTimer Professional to the upcoming LapTimer Grand Prix edition v17 for VBOX Sport users purchasing a new LapTimer Professional version 16.8. LapTimer Grand Prix is expected to become available in Spring 2013.
Finally, here is a snapshot from a test run in December (DGPS at 20 Hz):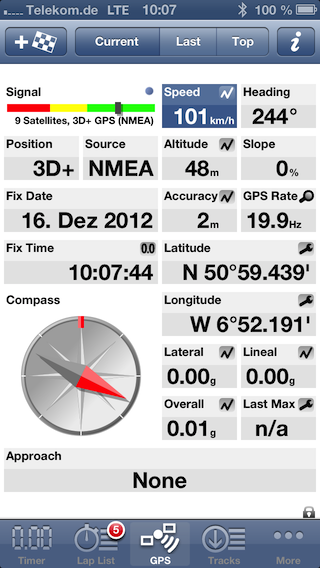 - Harry