Hi all,
This thread is actually a poll to collect your requests on extra fields in LapTimer v15.1 / v16.0 timer views. On the pictures below, you see a feature I have just implemented: the tab bar slides out (to the bottom) if not used for some seconds. In the portrait timer views, this frees up space for another row of data I can add.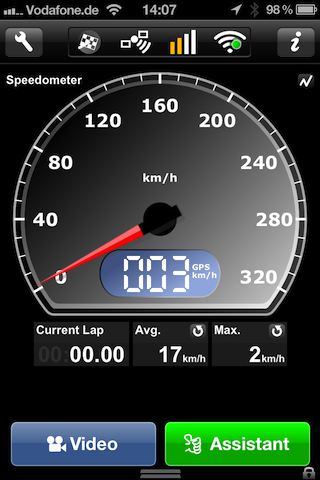 The views receiving this extra space are:
Timer
GPS
Acceleration
Racer's
Classic
Speedo (see above)
Satellites
Trip
Please reply here with your requests naming both the data (use one of the existing gadget titles, or define a new one), and the view(s) you want to see the data to show up in addition to the existing. New fields I plan to provide are Lap# and physical GPS update rate (opposed to the effective update rate as shown currently).
Background information: This is actually a preparation for landscape views. Tab bars are extremely space consuming in landscape views (same height, but much wider). This is the reason I need to hide them anyway. As a positive side effect, portrait views benefit from this feature.
- Harry